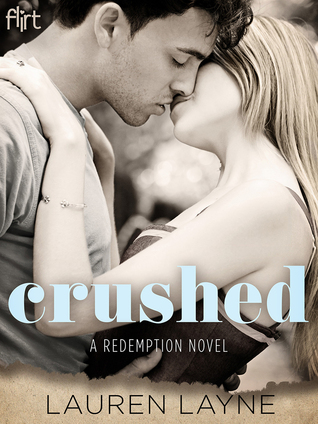 Title/Series:
Crushed (Redemption #2)
Author:
Lauren Layne
Target:
New Adult
Genre:
Contemporary Romance
Rating:
★★★★
Growing up in New York, Michael St. Claire never expected to spend his twenties wearing cowboy boots. But that was before he learned about his real father, a total stranger with a family in Cedar Grove, Texas. Once in the Lone Star State, Michael meets Kristin Bellamy, who is exquisitely refined and everything Michael always thought he wanted in a woman. The only problem is that Kristin is dating Michael's new half brother, Devon.

Kristin's mouthy, curvy sister Chloe has always been in love with Devon Patterson. So when Michael offers to help Chloe break up Devon and Kristin, Chloe agrees to a deal that seems too good to be true. Before long, Chloe finally gets her man, only to make a startling discovery: She no longer wants the guy she had to fight for—she wants the one who stood by her side.

After all he and Chloe have been through, Michael swears he's damaged goods. Can Chloe convince him that love is worth the risk?
What is it about Lauren Layne books that I can never quite give them five full stars? It's not that they are bad. As a matter of fact, they're so awesome that she's on my favorite writers list that has under 20 authors. But that's not because she's
THE BEST
CR writer out there. It's because
she's consistent
.
Her books are the too-happy-to-care-if-I-shouldn't kind, and on that front she almost never fails to deliver. I always get too wrapped up in the story to give a damn if there are cliches or predictable plots. Which is good, because with Layne is never original with the storyline itself. It's
the way
she does it that makes her rise above other authors.
Things you will never find in a Lauren Layne novel:
non-frowned up slut-shaming, douchebags for heroes, TSTL heroines, abusive relationships, forced humor, violence and/or rape being justified, unsafe sex, romance trying to compensate for lack of plot, static characters.
As if all that were not enough, this author embraces the cliche and makes it her bitch. It's kind of like when tv shows make fun of their own inconsistencies. Take, for instance, Glee:
Difference is, Lauren Layne's books actually make sense. Even if they don't have Lea Michele and her Nature sent voice.
Anyway, they are well-written, interestingly twisted cliches that don't pretend to be anything else. And I love it. I absolutely love it. Problem is, greedy bastard I am, I always want more.
I used to think all they needed was an epilogue, but we got one here and I've realized that's not quite it. Don't get me wrong, I loved the epilogue. Absolutely keep them coming. However, there's something missing in the books as a whole and I've finally figured out what it is: the little things, the small details that make it real.
I'm not even talking about whole scenes. It's about the unconscious touches, inside jokes and comforting silences. I don't want you to tell me about them, I want to see them. With the main characters, the previous couples, characters we don't even know yet. Fiction is essentially a lie, and everyone knows the best way to keep up a lie is to make it so real even you start seeing it as the truth. The only way to do that is to make it as detailed as the reality.
And while I'm writing this, I have
this Merder scene
in the background because
I wanted the characters in LL's books to have a tenth of the depth Shonda Rhimes characters have.
Which is, you know, an average amount for deep, well-done characters because no one can top Shondaland (I'm not fangirling or anything but LET'S TALK ABOUT MOTHERFUCKING LEXIE GREY AND MELLIE GRANT AND ADDISON MONTGOMERY AND ALEX KAREV AND APRIL KEPNER OR SHOULD I SAY
APRIL
AVERY
*).
Don't get me wrong. I felt Michael being confused about his own identity and Chloe having her mind and heart at war about what society expects from her and what she actually needs. I loved that the message this book sends, especially through the male protagonist, is that
it's not about the scale, it's about health and feeling confident in your own skin
. That's why I'm so in sync with authors like Samantha Young or newfound queen Penny Reid. They understand that even if some thing don't affect the actual storyline or even the ARC of the series, they make the tale more real.
Anyhow,
Crushed
was still amazing. I love this trope, these characters, and the way Lauren Layne made them come to life.
It was a perfect ending to the Redemption series, with the story coming full circle.
And I say end of the series because, even if she hasn't officially said it, one of the best things about the author is that she doesn't drag on series just because they are profitable. Although I wouldn't mind some short stories or novellas in the future, I understand right now she has her hands full with the
Oxford
guys.
Shout out:
Lauren, if you need any help with those, I'm here for you. And even though I haven't met them yet, I'll be good and step up for
New York's Finest
, too.
*I'd talk about Connor Walsh but
THAT SHOW IS NOT ACTUALLY WRITTEN BY SHONDA
.